I been craving flowers and gardening so much lately. I've
ordered all my seeds
for this year - probably more than I can fit into my gardens, and I've repotted up some of my hundred or so african violets. I've
started geranium cuttings
.
When actual plants weren't enough,
I made flower fairies
. And now I'm making flower earrings. I've always loved the look of aged copper and brass, but couldn't wear most brass or copper colored earwires. Then I discovered Vintaj nickel free earwires, so I ordered some to try. I also ordered some acrylic or lucite flower beads, dug out all my findings and many many glass beads and assembled some earrings.
The purple pair up at the top of this post is my favorite so far. I love purple tubular or bell shaped flowers such as penstemon, salvia, and especially
clematis Roguchi
.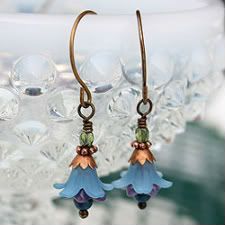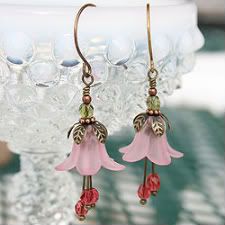 I also made a tiny blue pair and a pinkish mauve pair with stamens. Making these was fun. Maybe I'll make some more and put some in my shops.