This is a tutorial for making a simple small doll using a pattern made with freezer paper. The pattern is in the previous post:
Free Doll Pattern
I've been making small dolls virtually my whole life, but when I discovered the use of freezer paper about a decade ago, it made my life quite a bit easier. Freezer paper has a plastic coating on one side that enables it to temporarily stick to fabric without leaving any residue when removed and the pattern can be used over and over again. I have some freezer paper patterns that are 5 years old and have been used hundreds of times, although they are getting a bit ratty with use.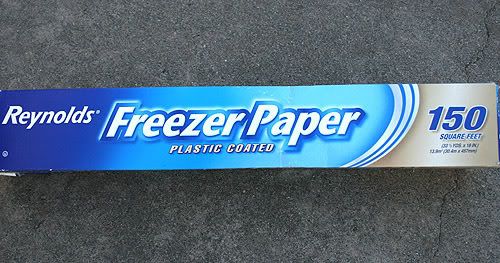 Freezer paper can be found in the grocery store and comes in a roll. Some cloth doll supply companies even sell it in nice flat sheets that can be used in your printer.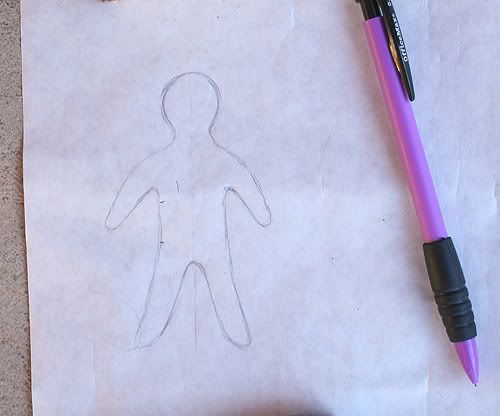 I draw all my pattern prototypes directly on the freezer paper, but you can see through it enough to trace a pattern on it too. Draw the pattern on the
paper side
of the freezer paper, not the plastic side.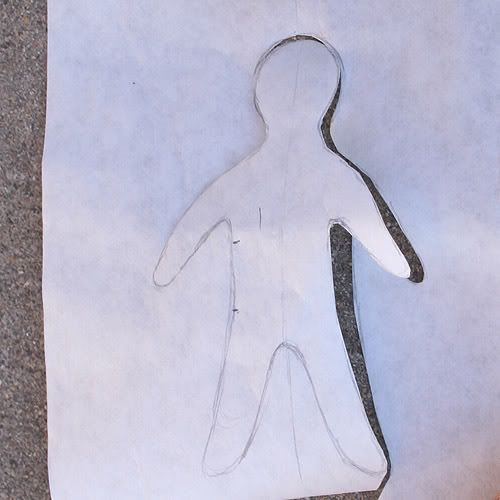 Once the pattern is drawn on the freezer paper, cut the pattern out right along the line. This will be your sewing line.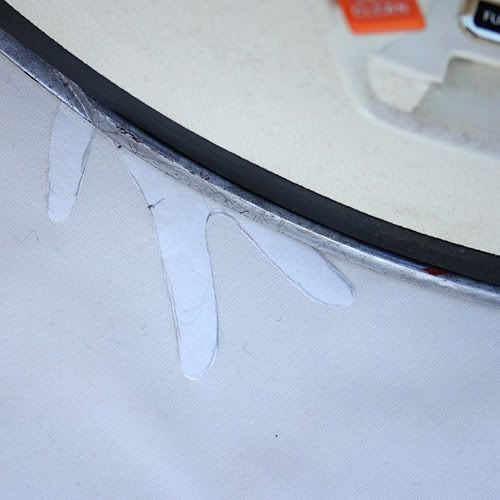 Double the fabric, wrong sides out. Since we're using a fairly hot iron, I recommend a cotton fabric. My favorite fabrics are Southern Bell and the Egyptian cotton fabric sold at Joann's Fabrics because they have a nice tight smooth weave that makes it easier to turn tiny cloth dolls without seam blow outs.
Iron the pattern
plastic side down
onto the wrong side of the fabric using a dry iron. Now, some irons get hot enough to melt the plastic coating on cotton setting, so if you have a hot iron, use wool setting. My old iron doesn't melt the plastic even on the hottest setting, but it's old and well used. If in doubt, use a cooler setting and if the pattern doesn't stick, bump up the heat to the next level.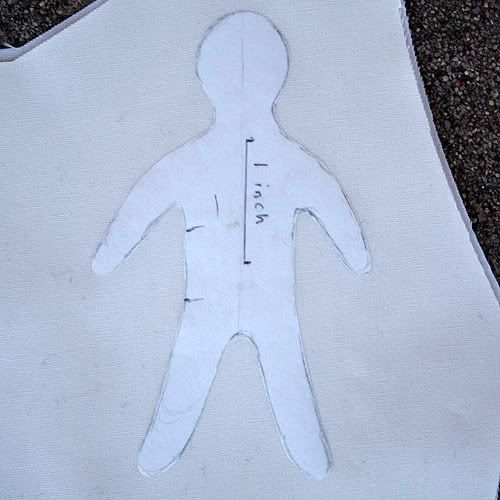 Let the pattern cool on the fabric.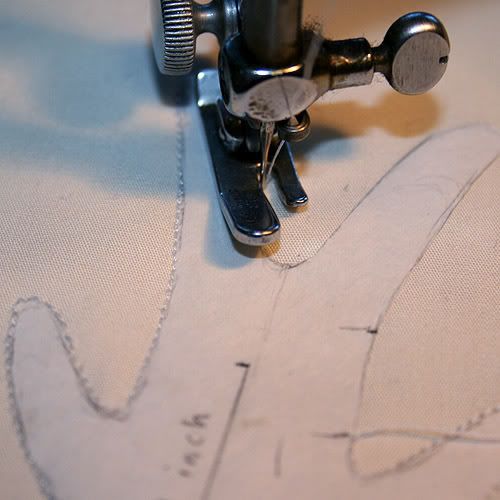 Sew right up along the edge of the pattern using a tiny stitch. I set my old Singer to stitch setting 15. Leave an area open for turning as indicated on the pattern.
When done sewing, peel the pattern off and cut out the doll leaving about 1/8 inch seam allowance. Clip curves, turn, stuff and embellish however you'd like.
Next tutorial will be about turning and stuffing a tiny doll.