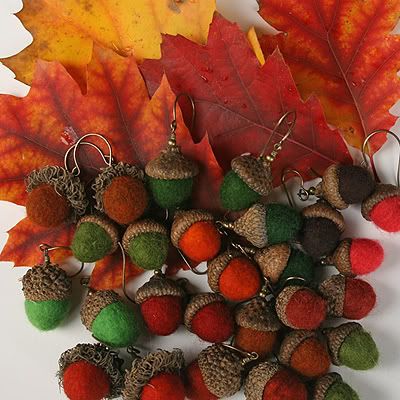 It's been while since I posted a new blog entry, but now it's time I do something about that. Once of the things I've been keeping busy with is making lots of felted acorn earrings out of wool. Nice soft light weight fuzzy earrings. I started making them last year and put a few on my Etsy shop. This year I'll be selling them at the local handweaver's guild sale as well, and I think I'll put a few up on this blog too.
The nut is made of wool that is needle felted and then wet felted to create a very firm, dense and smooth little acorn. Usually the wool is Merino but sometimes Corriedale is used. Sometimes the nut is hand felted and then died using a good, light fast commercial protein fiber dye and sometimes it's felted from pre-dyed wool.
The caps used are oak acorn caps and vary from red oak,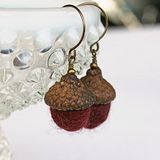 to white oak: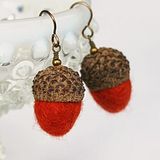 to fuzzy burr oak caps: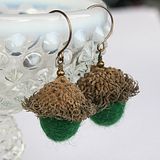 The metal parts are brass and the ear wires are either Vintaj natural nickel free brass french ear wires in small or large, or nickel free brass lever backs.